Skiing all year round – a dream for all passionate winter sportsmen! Zermatt makes it possible, with the highest and largest summer ski resort in Europe. On Klein Matterhorn mountain, you can hit the slopes at all seasons. Along with that, you find an perpetual ice at Matterhorn Glacier Paradise, and beautiful views of the surrounding mountain peaks.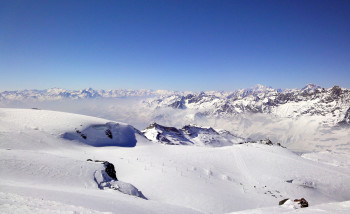 To get to the summer ski resort on Klein Matterhorn, simply grab the gondola in Zermatt. Via Furi, you get to Trockener Steg top station. From there, the new 3S cableway (Snow-Online reported) takes you to the summit station Matterhorn Glacier Paradise in only nine minutes. Here is where you find the glacier paradise experience as well as the ski slopes that are serviced by several t-bars.
The summer ski resort closes at midday, in order to ensure good quality of the slopes during the warmer season. Ski schools, ski rentals, and sports stores are also open all year round. Summer lift tickets start at CHF 68; kids of up to 19 years get a 15% concession, children of up to 15 years get 50%, and children younger than that ski for free.
Snow Report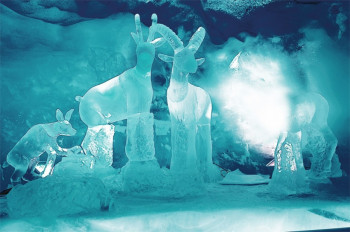 Besides the stunning view, the second of Matterhorn Glacier Paradise's highlights is the glacier palace. A lift takes you 15m/49ft underneath the glacier surface, and carries you off into a fairytale land of sparkling ice crystals, imposing crevasses, ice tunnels, a slide, and unique sculptures. Ice banks equipped with furs invite you to relax and take in the fantastic ice world surrounding you.
At the inside of the mountain, you also find a viewing window from where you can see the 4,164m/13,661ft high mountain Breithorn; a cinema lounge; and a restaurant with shop. You can even stay the night at Matterhorn Glacier Paradise Lodge.