Skiing with no frills, that's what Castle Mountain ski resort in Alberta in the Canadian Rocky Mountains is known for. If you want to enjoy untouched snow, stunning nature, and true hospitality in a down-to-earth atmosphere, this is the place to go. A special highlight you shouldn't miss while you're here: cat skiing on Haig Mountain!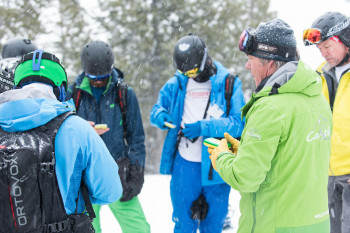 Special compliments must go to the organisation and professionalism of the cat skiing team at Castle Mountain here. The equipment we received was state-of-the-art, the avalanche training in theory and practice was not only very profound, but entertaining also, and the highly experienced guides provided the necessary safety as well as lots of fun on the mountain.
Depending on size and strength of the group, cat skiing in Castle Mountain includes between 5 and 8 deep-snow runs. Moreover, a photographer takes great souvenir pictures of all participants. In conclusion, we highly recommend cat skiing to everyone who finds themself in the area.