Interesting facts
Offering 3588 acres of slopes and terrain, Castle Mountain Resort is among the 5 largest Ski Resorts in Canada.
Castle Mountain Resort is among the 15 best rated Ski Resorts in Canada.
Elevated between 4626 ft and 7425 ft, the Ski Resort is among the 10 highest elevated Ski Resorts in Canada. The vertical drop from summit to base is 2799 ft. The average difference in altitude between base and summit of Ski Resorts in Canada is 1148 ft. Most runs are therefore relatively long.
Season starts on Dec 8 and ends on Apr 7 (120 days). Average season duration in Canada is 164 days.
Average snow depth during the season (Dec 8 to Apr 7) is 65 " at summit elevation and 27 " at base elevation. Snow coverage is usually best during March, offering an average snow depth of 80 " at summit elevation and 34 " at the base. Therefore Castle Mountain Resort is among the 15 ski Resorts with best snow conditions in Canada.
Castle Mountain Resort features 58 sunny days on average per season. The average for all ski Resorts in Canada is 48 sunny days. March is the sunniest month with an average of 20 sunny days. This makes the ski resort one of the 3 sunniest in Canada.
News
For both families looking for a perfectly groomed terrain or free-riders looking for adventure our two breathtaking mountains with deep powder offer an incredible choice! With a snowfall of 910 cm annually you got plenty of natural snow to enjoy. Castle Mountain got six lifts serve the slopes, the highest one with 853 m vertical drop.
Our three terrain parks PROGRESSION PARK, BIG HIT PARK, RAWHIDE RAIL PARK are designed for riders by riders with regard to the different levels of riders skills. Castle Mountain Resort offers the shortest lines and all the convenience you wish within reasonable price ranges.
The Ski Resort
Elevation
4626 ft - 7425 ft
Capacity
6100 Persons/Hr.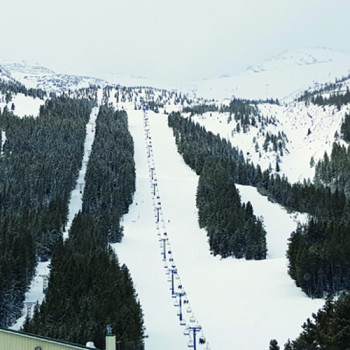 Castle Mountain sits in the best surroundings possible. Surrounded by the Rocky Mountains and charming river valleys you'll be overwhelmed by the beauty of nature. The resort itself invites with over 3,500 skiable acres, two mountains and a total of 104 trails. Three terrain parks are designed to make a freestyler's pulse race faster. The summit featuring a height of 7,463 feet so you get to actually see British Columbia's backyard. The season depends on weather conditions but usually ranges between Mid December and Mid April. It pretty much welcomes skiers of all levels, abilities and sizes and it's known for being super kid-friendly.
15 percent are dedicated to beginner skiers, 40 percent please the needs of intermediate winter athletes and 35 percent are reserved for those who need an advanced difficulty level. If you need an extra kick, check out the leaving 10 percent for expert skiing. Cat skiing is definitely a topic at Castle Mountain. The resort's powder Stagecoach will take you on a backcountry adventure boasting open bowls and immense powder stashes. Take the Huckleberry chair up to start into the craziness.
A ton of trails start from the Main Mountain Base. Grab the Huckleberry Triple Chair and you'll drop into a handful of blue and green trails. The green Buffalo Flats run gives you access to the Cinch Fork lift. From there you can hit the Bowl Easy Out. You can also start from the valley with Trex T-Bar, which brings you to the Enchanted Forest trail. An awesome spot for tree skiing lovers! Sundance Triple chair gives you a ride to blue and black runs while the Green chair services green trails only. Perfect for beginners and children!
From mid-mountain you can take Tamarack chair to find all the blacks and deep bowls every expert skier is dreaming of. Generally spoken, the further you're skiing down, the easier are the trails.
The peak of Gravenstafel Mountain is a mekka for skiers and riders who already gained some knowlegde. There is no end to exploring you can do on the mountain expert-wise. Extremely challenging are the Double Diamond black trails like 'Zero', 'Murphy's Law' and 'Gambler'. The names really speak for themselves! Tree skiing, high piles of snow and gladed parts- every advanced skier will be in skier's heaven!
The Rawhide Slopestyle Park is located on lower Tumbleweed. From here you can access the jump line from Upper Lone Ranger and you can easily check out the much easier rails in Tumbleweed.
News about other destinations
On Mountain Dining
Casual or fine dining? You'll find everything in the resort. T-Bar Pub and Grill has the best pizza in town. They're also well-known for wings, salads and nachos. Another favorite is Joe's Cafe located inside the Castle Mountain Main Lodge. In the morning they treat guests with fresh baked goods and coffee specialties. In the afternoon you will mostly find great sandwiches and california rolls. The Day Logde features the Castle Mountain Cafeteria which is the perfect hangout for a quick breakfast or lunch. The Cafeteria serves original Starbucks coffee. Also, if you crave sushi or fresh salads, this is your place! Plus, you can come here for apres ski hours as well.
Must-Ski Runs
Most Difficult Runs
Desperado
Length 0.7 miles
Vertical Drop 1968.5 ft
Longest Runs
Skyline Traverse-Bandito-North Run
Length 3.1 miles
Vertical Drop 2831.4 ft
Video
Castle Mountain Powder... | 04:21
Activities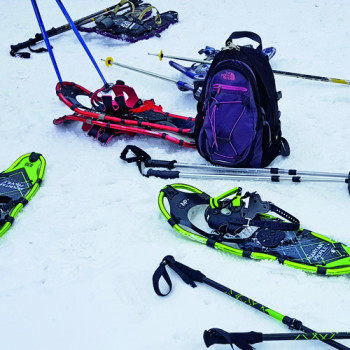 There are tons of non-skiing activities in Castle Mountain. If you're into shopping, make sure you visit the Outdoor Outlet where you'll find all the popular outdoor brands. Save up to 70 percent in the store that is open seven days a week.
You want to relax your sore muscles? Head to the Pincher Creek Pool& Hot Tub where you can swim some laps or just hang in the hot tub. Horse sleigh-rides are the perfect getaway from daily life with your significant other. When there's enough snow on the ground, sleigh rides are an option for speeding friends.
Getting here
It's easy to reach Castle Mountain. It is located about 2.5 hours from Calgary and 1.5 hours from Lethbridge. It's also 1.5 hours from the Carway US border crossing and the Roosville US border crossing. Best airport for international connections is the Calgary International Airport. You'll find every known rental car company and you can compare prices to get to the resort the cheapest way.